The NDGC has seen an exciting increase in membership over the past year, and as a result, we have decided to run the year end bag tag championship a little differently than past years. The bag tag championships will commence with two mini month long tournaments leading up to the final bag tag battle, which will take place on December 11.
All interested members must pre-register for the bag tag championship. The first round will consist of a virtual round (stroke play) at Bowen which will give us a massive leaderboard. The top 64 participants will proceed to the match play knockouts. Top 64 will be assigned opponents to battle in a regular 18 hole singles match and must complete the match within a specific time frame. The winners of those matches will then proceed to another virtual round which will determine the Sweet 16 bracket for top NDGC Champion title and the Not-So-Sweet 16 Consolation bracket. 32 members will participate in the NDGC Bag Tag Championship Finale on December 11.
These virtual rounds will ONLY be scored on UDisc, so please sign up for a UDisc account. The app and a basic account are free to download and set up.
We ask that once this edition of the 2021 NDGC Bag Tag Championship begins you please not play for bag tags outside of the mentioned rounds and matches so we can keep track of where the bag tags are during the championship.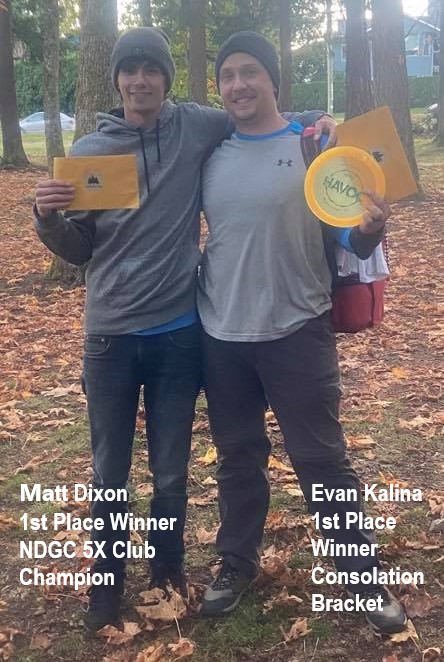 The 2020 NDGC Club Championship took place Saturday. October 24th at Bowen Park.
Congratulations to last year's winners, Matt and Evan.