While the NDGC calls Bowen Park their home, this is not the only course in the Nanaimo area. To address the ever increasing popularity of Bowen Park, and the congestion created in the summer months, various members have built auxiliary courses in the surrounding areas.  Doumont is one that has a solid interest guiding it, and offers a degree of challenge that even the most seasoned pro would appreciate!
As with any course, please be mindful of your surroundings – disc golfers are not the only people in the area. Locals and visitors frequent these spots as they are situated amongst a number of great walking and hiking trails. We also ask that you follow the practice of: what you pack in, you pack out. Let's keep these courses clean so they can be appreciated by all.
BOWEN PARK
Whether it's light out or not, you can expect to see us at Bowen Park. We are a friendly bunch and love to engage with new players and visitors so don't be afraid to say hello while you're playing! Watch out for flying discs! Bowen Park is Nanaimo's most popular course and it is free and open every day of the year. It often gets busy, especially during the nicer weather. The course is relatively flat and cart-friendly, with some slightly bigger hills near the bottom half of the course starting at Hole 7. There's plenty of trees to require a variety of technical shots, and no water holes. Be extra cautious throwing Hole 7, 8, and 9 from both the blue and white teepads, as there is an active volleyball court, especially during the summer months. Please ensure you can control your shots so they do not fly toward the courts, and if there's any doubt, disc down or just skip those holes so we can keep the park safe for everyone and prevent injury.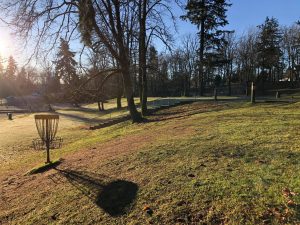 Directions
Address: 500 Bowen Road     Google Map Directions
It's recommended that you either park your vehicle on the north side of the parking lot, or closer to the gazebo on the south side. Discs tend to gravitate toward shiny objects for some reason! The first hole is on the opposite side of the park, closest to Bowen Road. You'll see a large sign that has the course map by the first tee pad.
Course Information
Par 54 | 3,974 ft | Course Map
There are 18 holes with standard (blue/short) and alternate (white/long) tee pads.
All tee pads are clearly marked.
Some baskets have alternate pin locations, and are changed by the NDGC based on the season and for events.
There are water taps located by the upper gazebo, between the tennis courts, by the volleyball pits, and by the horseshoe pits – remember to stay hydrated on those hot summer days!
Washrooms are available at the main complex near hole #4, and off the back of hole #9 in the white building.
The upper gazebo is located across from the pool by the main entrance, and the lower gazebo is opposite the washrooms off hole #9, just down the hill. If you would like to use one for an event, be sure to check with the City of Nanaimo to ensure that they're not already reserved.
Garbage cans are located on holes #1, #4, #5, and #10. Please don't leave cans or trash on the top of the baskets or anywhere on the course.
More About the Course
PRYDE VISTA
The Pryde Vista Golf Course is a private golf course in Nanaimo and we are very thankful that owners Dave and Louise have allowed the NDGC to establish a full 18-hole course with baskets, teepads, and teepad signage on their beautiful property. We encourage all disc golfers to visit this course during the spring/summer/fall when the disc golf season is open at Pryde and experience it first-hand. Pryde Vista has plenty of long bombs and technical shots. Holes 3 and 4 are water holes, which means you will want to take extra precautions when throwing over the ponds! Please do not disturb the plant and/or wildlife by entering the water to retrieve your disc. Use a disc retriever where possible, or check inside the clubhouse where the lost and found discs are kept at a later date. We do not guarantee that you will be able to get your discs back, so if you're unsure please layup before the ponds.  There are often ball golfers enjoying the main golf course, and while our course is designed to have a minimal crossover with the golf layout, there is still always a risk of potential injury to both golfers and disc golfers. Please keep an eye out for other people and where their balls/discs are headed, and only throw when it is safe to do so.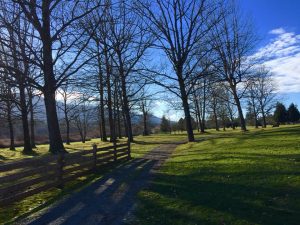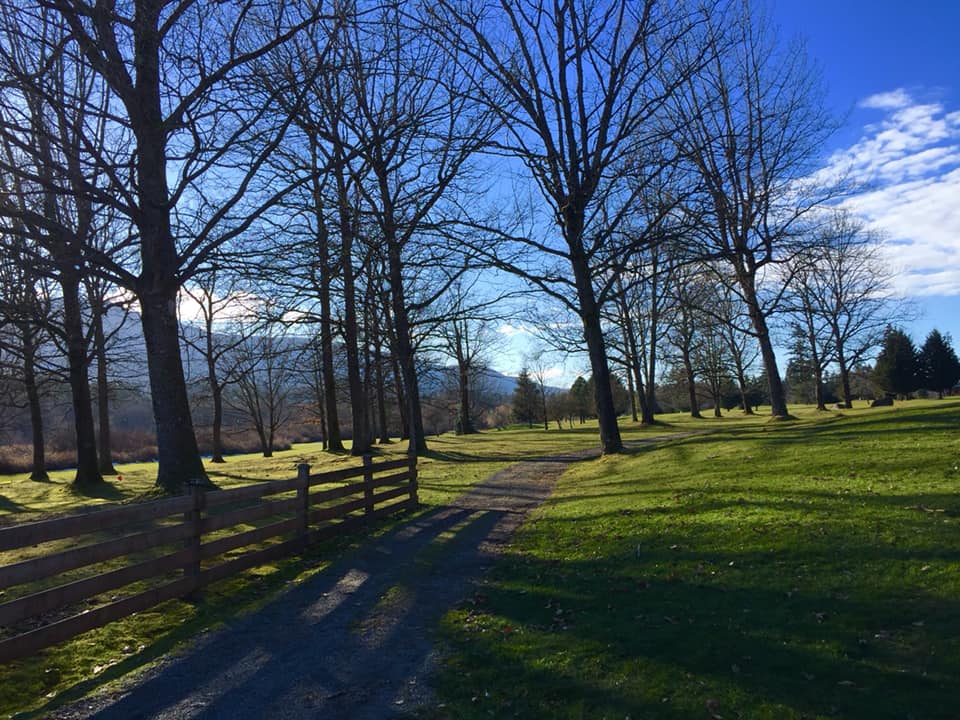 Directions
Address: 155 Pryde Ave   Google Map Directions
Pryde Vista Golf Course is located at 155 Pryde Ave in Nanaimo. From BC-1 to Nanaimo; turn west onto Comox Road.  Drive 1.6 miles (becomes Bowen Rd) to a left on Pryde Ave. Follow Pryde Ave to the end. The course is on the corner, on the right.
Course Information
Par 58 | 6,850 ft | Pryde Vista – Map & Score Card
There are 18 holes with baskets.
Tee times are mandatory, maximum 4 people per card. Please arrive before your tee time and be ready to start playing on time, no exceptions. To book a tee time, call the Pryde Vista office: 250-753-6188.
Cost: $8 for NDGC members (show your bag tag at the office), $10 non-members. Second round is $5.
All golf greens are out of bounds, throw from last point of entry with one penalty stroke. Do not throw from the greens!
All sand traps are out of bounds, play from lie with one penalty stroke and please rake trap afterwards.
All ponds are out of bounds.
Washrooms are located inside the club house.
Please remember that we are guests on private property; respect the staff and course grounds at all times, and pack out what you pack in.
More About the Course
DOUMONT
Doumont, aka "Doom"/"Mount Doom", is our advanced-level tonal course located in a natural setting out in the bush and is open year-round. Rugged terrain, long holes with interesting elevation and 2 water holes in play: hole 4, and hole 6. It is helpful to have a spotter on this course as the land is kept as close to its natural habitat as possible, which means plenty of trees, shrubs, broom, and blackberry thorns. We strive to keep the teepads and holes clear and maintained for disc play. Holes 16 ("Top of the World") and 18 are notoriously close to a thick clump of trees as well as blackberry bushes on the left side, keep that in mind when you tee off so you don't end up in that area. Hole 14 features a dog leg veering off to the left, with plenty of ferns and foliage throughout. Dog walkers, mountain bikers, and local residents occasionally access the trail extending through the centre of the course, from the same parking area. Please be aware when throwing. There are no facilities near the course, so be prepared for a hiking adventure. There's also no garbage cans, we ask that you kindly pack out what you pack in. In the summer, the course is exposed to plenty of sunlight and so we recommend extra water, snacks, and of course sunscreen/hats if you choose to play here at your own risk in the heat. The Doumont Disc Golf Course was designed by Eric Dusch, PDGA# 50743, and is maintained by members of the NDGC.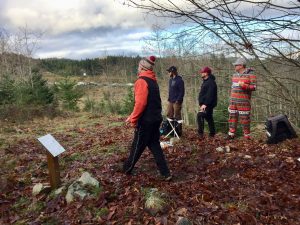 Directions
The Doumont Disc Golf Course is located at 4220 Biggs Road, Nanaimo.  From Hwy 19 turn onto Jingle Pot Road at the Mostar Road intersection. Continue on Jingle Pot Road 200m and turn right on Biggs Rd. Go 3.2km up a long hill to the parking area with a gate on the left. Extra parking is available up the road on the shoulder past the Doumont Road turnoff.
Course Information
Par 57 | 6,049 ft | Course Map
There are 18 holes with tonals.
Advanced-level course. (Beginners not recommended).
Tees and tonals are not always clearly marked, but it is something we are working on.
Where possible, have a spotter. Write your name/ph# on your discs.
Rugged terrain, long holes with interesting elevation and 2 water holes in play.
Watch out for other people who may be walking their dogs.
There are no services or washrooms.
Pack out what you pack in.
Check our Facebook Group for updates on lost and found discs.
More About the Course