Business Sponsorships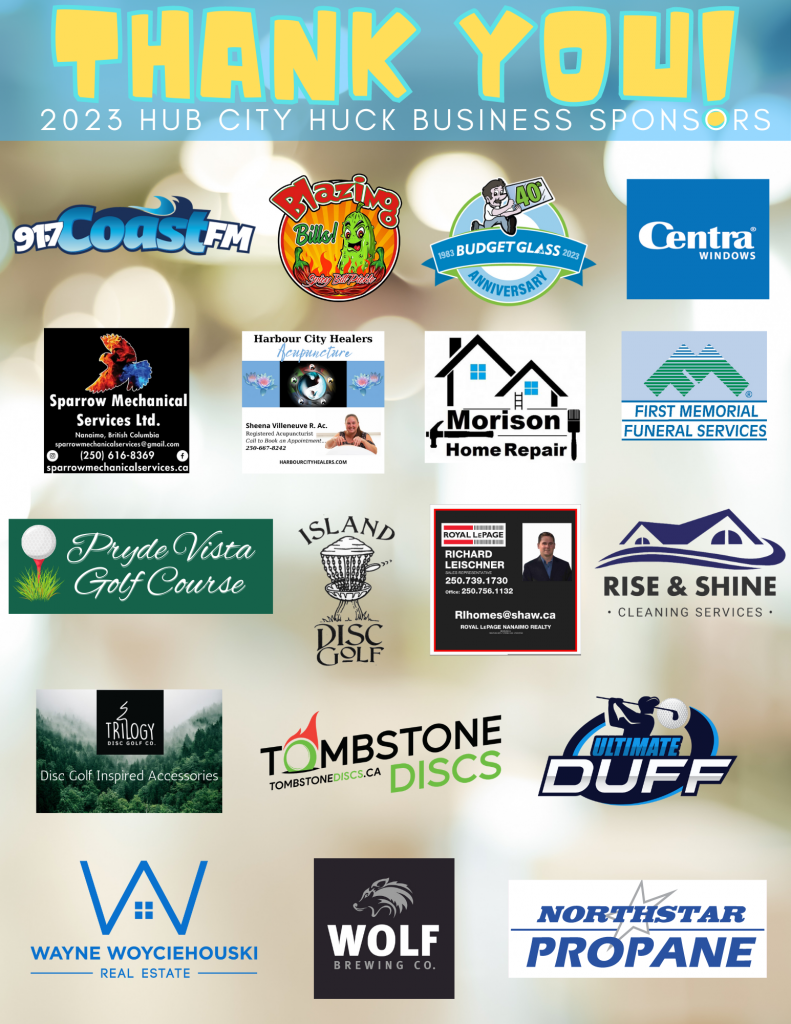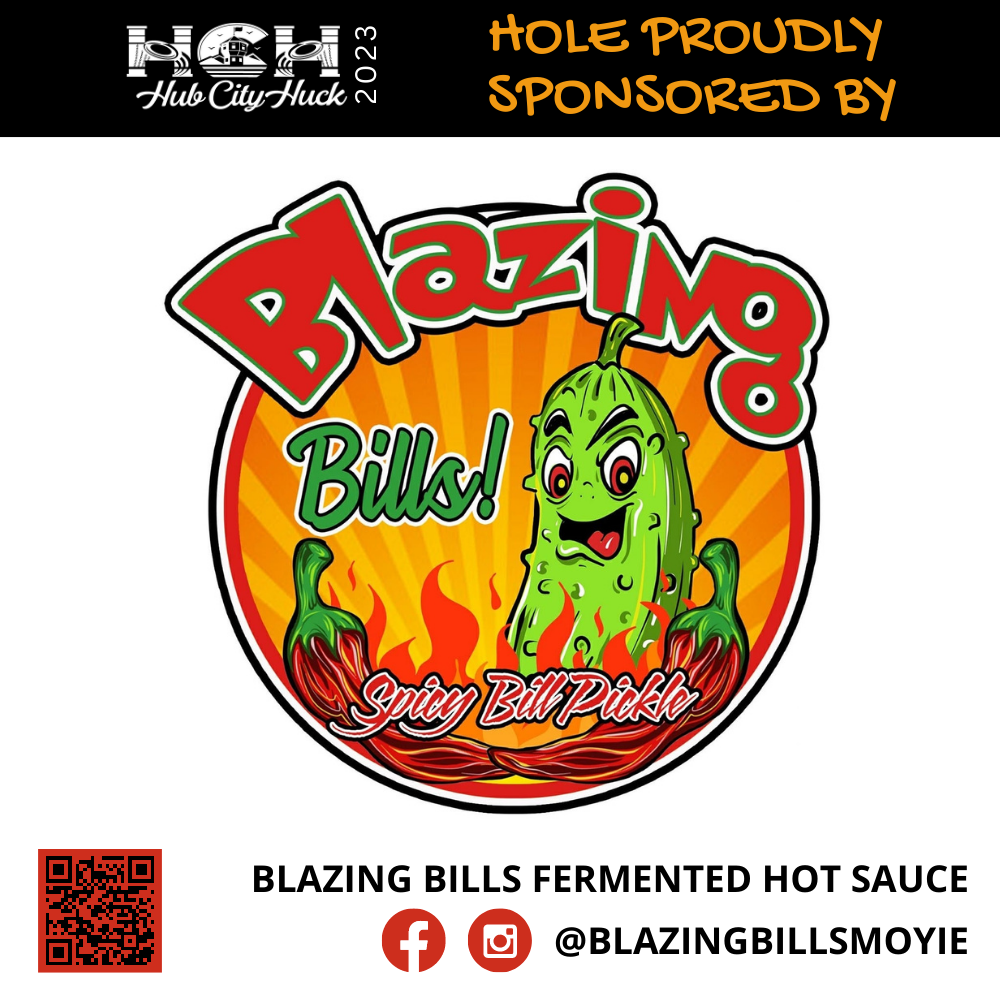 [lgxlogoslider id="2478″]
The mission of the Nanaimo Disc Golf Club is to:
Promote the development of disc golf and other disc activities through organization, cooperation, and competition.
Be responsible for all course-related matters, such as future planning, course improvement, course design, basket placement and local tournaments in the Nanaimo Regional District.
Serve as a working partner with the City of Nanaimo on all disc golf course-related issues and activities.
Organize and coordinate the efforts of member volunteers to increase the quality and quantity of disc activities in Nanaimo.
Provide information on disc golf and other disc related activities.
Educate its members and the community on the benefits and joy of "disc play".
Emphasize safety by encouraging all players to ensure, as best possible, that other park users are clear of potential disc flight paths before throwing.
Weekly events provide set days for disc golfers to get together for a round, and meet new people that also love the sport. Our hope is to provide something that every level of player can enjoy, and with your support we can make that happen. Come out to an event to join in the fun, and let's work together to make disc golf awesome on Vancouver Island!
The following are the weekly events we host. Be aware that start times change with the season, and some events get shut down temporarily due to light or other restrictions. Please arrive before the start time.
To keep up with the latest news and information, come join our Facebook Group. If you're not a Facebook user, please feel free to drop us a message and we'll get back to you as quickly as we can.
Current Events:
Monday Glow League
Currently on break. Glow will start up again in November 2023.
Winter Event. All baskets are lit up during the round. Disc lights available. Glow tags in effect. Ace Pot. CTP prizes. Sponsored by Trilogy Paracord, Acerunners, Island Disc Golf.
$5 entry fee. $2 bag tag. This league runs until the time change in the Spring.
Hosted by Potsy.
Monday Blues
Mondays at 6:30PM. $2 entry. Ace Pot. Club Tags in effect.  In order to be qualified to win the ace pot you must attend (and paid into the ace pot) at least 3 times over the course of the Monday Blues series. Hosted by Potsy.
Wednesday Women's League
Currently on break.  $2 drop-in. Ace Pot. Random prizes throughout the season. All women welcome. Meet at Hole 3. Play for fun or competitively. Join the Nanaimo Women's Disc Golf Facebook group for ongoing updates. Hosted by Kerstin.
Tombstone Thursdays
Currently on break.
New in 2022! Doubles Glow. $10. Meet at Hole 3. Hosted by Alex & Richard of Tombstone Discs.
Thursday Night Winter Putting League
The 6-Week Winter Putting League took place Thursday nights at the Nanaimo Curling League.
Thursday Night Handicap League
Thursdays at 6:30PM. 
Beat your handicap! Weekly prizes. Ace Pot. $5 drop-in. Meet at Hole 3.
Matches will be played from the white tee pads.
Event expected to run as long as light permits (generally into September). For more info on the Wednesday Handicap League, click here. Hosted by Gary.
Sunday Doubles
Sundays at 12:00PM – Bowen Park White Pads. Meet at Hole 3.
$5 entry fee/ace pot. Meet between 11:30-11:45 to arrange groups and hole assignments. Remember to bring your club tag. All are welcome though only club members can claim the weekly ace pot. Please note that Pro division players are required to pair with an Am player to balance pairing. Social distancing in effect. Hosted by Richard.
Pryde Vista Disc Golf
Pryde Vista is open for disc golf from February until the end of November 2023. We often get together to play a random round at the Pryde Vista Golf Course, where we are lucky to have an awesome permanent disc golf course set up on their beautiful golf course!
Cost is $8 for NDGC members, $10 for non-members. Maximum 4 people per group.
Tee times must be booked in advance by calling Pryde Vista, 250-753-6188. Please be on time for your tee time, no exceptions. Keep an eye on our Facebook page for upcoming dates, and make sure to write your name on your discs for those water holes!
Wednesday Night Friendlies
Currently on break 
Wednesday Night Friendlies. **Open to club members**. 6:00PM start. $5 cash to play. Meet at the lower parking lot (hole 9-10). Random cards. Meet club members. Play with some great people. Prizes (mainly discs) for low score, at least one random draw, Closest to the Pin (CTPx2), NO ACE POT. Please arrive by 5:45 p.m. Let's play some disc, embrace our new members and have some FUN! If all works out there will be food and refreshments to follow! Please practice safe COVID protocols, social distancing, hand sanitizing. If you have symptoms or are sick, STAY HOME!  Hosted by Bill.
*Join our Facebook group to get the latest updates!  We also have a Facebook group for our women's league: Nanaimo Women's Disc Golf !
Not seeing an event that works with your schedule? Missing one of our past events and you want it back? We'd be happy to discuss things further, as we're always on the lookout for people to host events. If you're interested, please
let us know
!
---