While the NDGC calls Bowen Park their home, this is not the only course in the Nanaimo area. We encourage you to book a tee time at the Pryde Vista Golf Course, where we have an awesome 18 hole disc golf course setup. Each hole is marked by a teepad sign and map to help guide your way through the course.
As with any course, please be mindful of your surroundings – disc golfers are not the only people in the area. Locals and visitors frequent these spots as they are situated amongst a number of great walking and hiking trails throughout Bowen Park. Ball golfers utilize the Pryde Vista Golf Course daily and have the right of way during game play. Many different birds and wildlife live on the courses, please do not disturb or feed them, and be cautious of the natural plant life while playing through the parks. We ask that you follow the practice of: what you pack in, you pack out. Let's respect the natural habitats of these courses and keep them pristine, so they may be appreciated by all for years to come.
BOWEN PARK
Whether it's light out or not, you can expect to see us at Bowen Park. We are a friendly bunch and love to engage with new players and visitors so don't be afraid to say hello while you're playing! Watch out for flying discs! Bowen Park is Nanaimo's most popular course and it is free and open every day of the year. It often gets busy, especially during the nicer weather. The course is relatively flat and cart-friendly, with some slightly bigger hills near the bottom half of the course starting at Hole 7. There's plenty of trees to require a variety of technical shots, and no water holes. Be extra cautious throwing Hole 7, 8, and 9 from both the blue and white teepads, as there is an active volleyball court, especially during the summer months. Please ensure you can control your shots so they do not fly toward the courts, and if there's any doubt, disc down or just skip those holes so we can keep the park safe for everyone and prevent injury.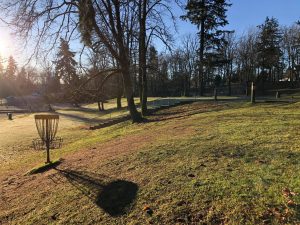 Directions
Address: 500 Bowen Road     Google Map Directions
It's recommended that you either park your vehicle on the north side of the parking lot, or closer to the gazebo on the south side. Discs tend to gravitate toward shiny objects for some reason! The first hole is on the opposite side of the park, closest to Bowen Road. You'll see a large sign that has the course map by the first tee pad.
Course Information
More About the Course
PRYDE VISTA
The Pryde Vista Golf Course is a private golf course in Nanaimo and we are very thankful that owners Dave and Louise have allowed the NDGC to establish a full 18-hole course with baskets, teepads, and teepad signage on their beautiful property. We encourage all disc golfers to visit this course during the spring/summer/fall when the disc golf season is open at Pryde and experience it first-hand. Pryde Vista has plenty of long bombs and technical shots. Holes 3 and 4 are water holes, which means you will want to take extra precautions when throwing over the ponds! Please do not disturb the plant and/or wildlife by entering the water to retrieve your disc. Use a disc retriever where possible, or check inside the clubhouse where the lost and found discs are kept at a later date. We do not guarantee that you will be able to get your discs back, so if you're unsure please layup before the ponds.  There are often ball golfers enjoying the main golf course, and while our course is designed to have a minimal crossover with the golf layout, there is still always a risk of potential injury to both golfers and disc golfers. Please keep an eye out for other people and where their balls/discs are headed, and only throw when it is safe to do so.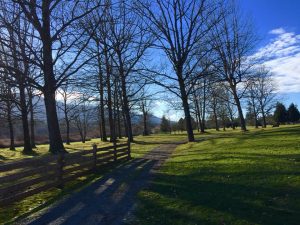 Directions
Address: 155 Pryde Ave   Google Map Directions
Pryde Vista Golf Course is located at 155 Pryde Ave in Nanaimo. From BC-1 to Nanaimo; turn west onto Comox Road.  Drive 1.6 miles (becomes Bowen Rd) to a left on Pryde Ave. Follow Pryde Ave to the end. The course is on the corner, on the right.
Course Information
More About the Course